I'm a huge fan of Miss Peregrine's Home for Peculiar Children and Hollow City by Ransom Riggs. His first novel was on my Christmas wishlist for two years in a row, and when I finally got the book, I finished reading it in just a couple of days. I can't wait until he releases the third installment! Imagine my excitement when I found out he was coming here again for a book signing event (I missed the first one).
So it happened that a few months ago, I was walking around Shangri-la Mall when I came across the tarp right outside National Bookstore that Ransom Riggs, Tahereh Mafi, and Veronica Rossi were going to have a book signing event in Manila on April 26, 2014. Even though it was still far away then, I already marked the date on my calendar and prepared for it. I even skipped my games last Saturday just to see Ransom Riggs in person. I was very determined, because as a writer who appreciates his work, I wanted to be able to tell him how much he inspires me to write more, write often, and to never stop writing—by giving him my Greta's Junkyard chapbook, which was a compilation of three of my short stories for a thesis requirement, and was published and sold in school last year.
The event was held in the Glorietta Activity Center. I arrived at 10am, as soon as the mall opened. By then, there were already 500 people waiting in line. Some even lined up as early as 5am!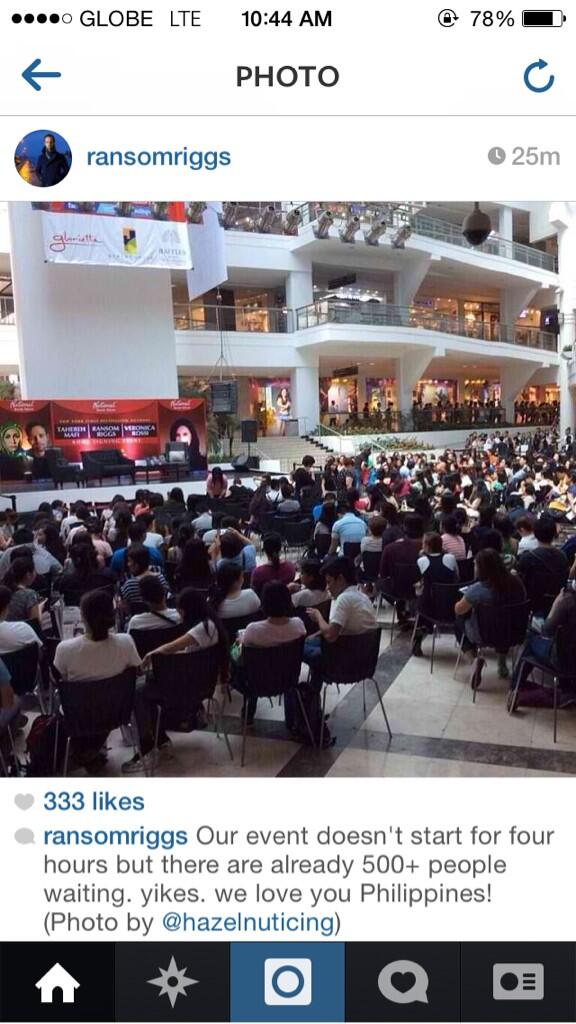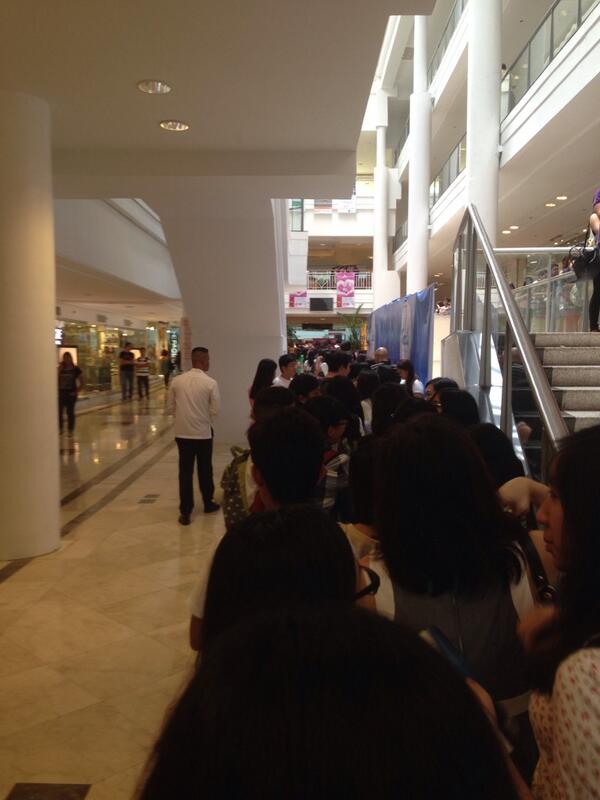 This was half of the line at 10am. It was already snaking up the higher floor.
Registration started as early as 10am when the mall opened, but the event really commenced at 3pm. So after I got my registration number, I had more than enough time to eat brunch and go around Glorietta with the Cupcake, who waited and stayed with me the whole time.
As soon as the three authors arrived at 3pm, the crowd went wild. It was really nice to see, especially when you realize that this is the reading public—and it consisted of mostly high school and college kids. A host from National Bookstore opened the show, introducing Ransom Riggs, Tahereh Mafi, and Veronica Rossi. They were briefly interviewed, and a lot of the kids were squealing at Ransom Riggs and Tahereh Mafi's love story.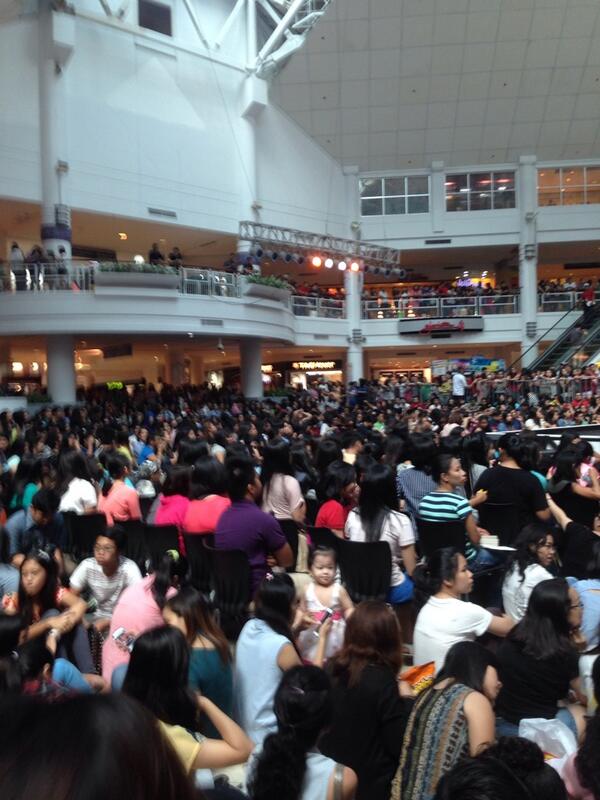 This was the crowd at around 2:30pm.
When the actual book signing began, we were called by batches of 20 based on our registration number. Since I was still Number 595, I had a long way to go.
This was me hanging out with Cupcake and my sister. We were just seated on the floor of the Activity Center.
When my batch was finally called, it was a little past 6pm. My heart was racing, and I had this speech prepared in my head for when I met him. But as I got to the stage, and he said hi to me, all I could say was, "Oh my god. I'm gonna cry." And I almost did! Regardless, I was still able to give him my chapbook. And at least whatever speech I had in my head was also written on the first page.
That's him holding my chapbook!
I really want to thank National Bookstore for bringing Ransom Riggs here in the Philippines, and Ransom Riggs for sharing his incredible talent through the Miss Peregrine series and for giving me that hug that all the more nearly brought me to tears. I will never, ever forget this moment.
Ransom Riggs Book Signing Event in Manila