New Restaurant Alert at Mega Fashion Hall: Linguini Fini
It was my first time to actually visit the Mega Fashion Hall last September 13, and being the clueless girl that I am, I had to rely on my sister and the Cupcake to lead the way. With new hit restaurants like Tim Ho Wan and Ippudo (which had a line that snaked around the 3rd floor), plus the fact that H&M will have three floors to open soon, can you imagine the crazy parking lines and traffic bound to happen?!
However, braving the storm and traffic was something I didn't mind doing at all because it's always nice to receive an invite from The Moment Group, the same group behind renowned restaurants like Cue, Manam, 8Cuts, and Phat Pho—who partnered with Homegrown Foods from Hong Kong and recently launched their newest restaurant: Linguini Fini Manila.
Grabbed from Jin Loves to Eat
Grabbed from Manila Coconuts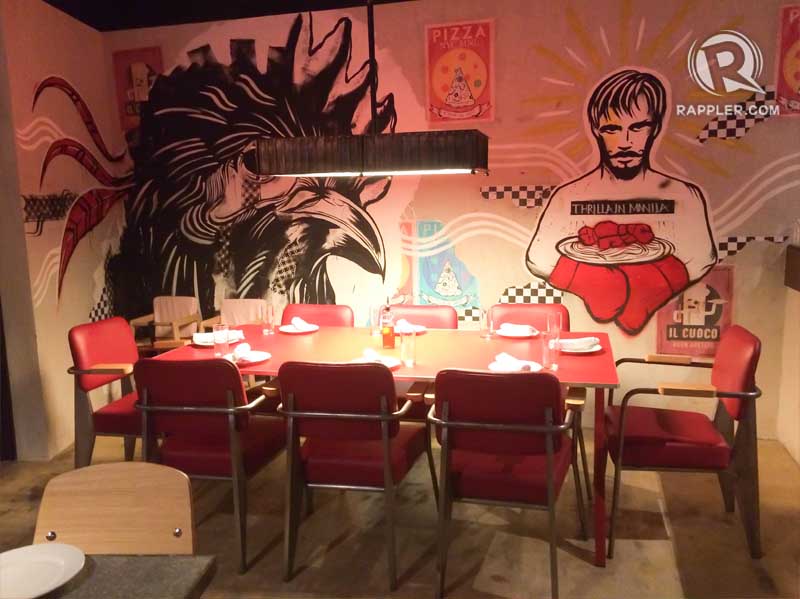 Grabbed from Rappler
Linguini Fini, evident in its name, is an Italian restaurant rooted in New York culture (this is very present in the interiors and paintings, which were created by a local artist). Beneath the surface of the colorful walls lies its essence—authentic Italian food that uses fresh produce, all locally-sourced, and is 100% organic and homemade. Built on the foundation of sustainability, the restaurant firmly believes in local farmers.
Chef Vinny Lauria
The concept behind Linguini Fini is definitely fresh, just like its ingredients—plus Head Chef, Vinny Lauria, has a nose-to-tail philosophy where he makes the most of every part of the pig so that nothing goes to waste. This philosophy achieves not just flavor, but also sustainability.
Our scrumptious dinner that evening consisted of White Gold Bars (Php 365), Mista (Php 220), Prosseco Fries (Php 185), Classic Linguini Fini Puttanesca (Php 335), and Porchetta (Php 485)—all of which I highly recommend!
White Gold Bars
The White Gold Bars were their version of mozzarella sticks, except they used kesong puti. Each bar oozed with white cheese, and I was honestly tempted to order more. Coming from a family who makes our own kesong puti, I was so delighted to have discovered a recipe that uses a cheese close to my heart.
Where did the "White Gold Bars" name come from? Chef Vinny explains that as they were brainstorming for recipe names, and they couldn't exactly call it mozzarella sticks because it wasn't made with mozzarella, they randomly came up with "White Gold" due to the kesong puti's unique flavor and texture.
Mista Salad
Prosseco Fries
The Puttanesca, made with homemade linguini fini (which actually means "fine little tongue"), was unlike any pasta I've ever tasted—and I mean this because I'm used to eating pasta bought straight from the grocery. All of Linguini Fini's pastas are fresh, homemade, and done from scratch—so you'll really taste the difference. In fact, once you've tried pasta that's made from scratch, you wouldn't want to go back to eating pasta that isn't.
Classic Linguini Fini Puttanesca
If you're a fan of pork, you must order the Porchetta. Thinking of a way to describe it is making my tummy grumble as I type, but it was seriously the most tender thing ever (it's roasted for ten hours after all)—the moment my knife gently grazed the meat, I easily sliced a piece without moving much. The flavor is perfect, too. Think Cebu Lechon, but more tender and with a more distinctive taste. It boasts a melts-in-your-mouth kind of seasoning, that the last piece, my sister and the Cupcake jokingly fought over.
For dessert, the three of us shared Hot Chocolate Affogato, which had cinnamon toast crunch and milk gelato.
Owner, Abba Napa, shares that "Linguini Fini stands for many of the same principles that our own homegrown establishments stand for—delivering an extraordinary product at great value, treating our peers like family, and always striving to create something memorable for the diners that walk through our doors."
If you want to see this for yourself, check out Linguini Fini at the Mega Fashion Hall and read through the detailed menu of their story. Trust me—tasting their food makes enduring the traffic worth it.
Linguini Fini Manila
3rd Floor, Mega Fashion Hall (Bldg. D), SM Megamall
(02) 5313302 or 0917-8341493
https://www.facebook.com/LinguiniFiniMNL