The Adventures of Cupcake and the Queen: 13 Things to Do in Kuala Lumpur
Prior to visiting Malaysia for the first time last month, the only impression I had of Kuala Lumpur was that it was a city full of color and lights. All these "Malaysia, Truly Asia" ads I used to watch as a kid in Discovery Channel (or was it Nat Geo?) played in my mind as soon as the plane landed in KLIA 2 on the evening of June 12. In my head I was even singing, "City of Blinding Lights" by U2 and imagined myself as Andrea Saches of Devil Wears Prada when she was roaming around the city of Paris.
But for a city that I expected to be bright and noisy, with people hustling and bustling about just like in Singapore and Hong Kong, I was mildly surprised that the streets of Bukit Bintang, hailed as the shopping and entertainment district of Kuala Lumpur (and where we stayed for three nights), were a little quiet despite the liveliness of its malls and buildings. Everything felt so surreal.
Our hotel, Dorsett Regency Kuala Lumpur, had the perfect location—situated beside Westin and Marriot, and was literally a stone's throw away from Pavilion, one of the more high-end malls in Bukit Bintang. It also had the perfect view of the Petronas Towers, which was incredibly breathtaking at night when the towers were lit up.
There was an ongoing Batman Exhibit in Pavilion on our first night in KL
Getting to Bukit Bintang from the airport took about an hour, but the trip was really easy. There are various transportation modes available—such as cabs, buses, and trains. Something we had to get used to was that everything was on the other side—the driver's seat, the roads, the escalators, etc.
Feeling a bit more adventurous, the Cupcake and I opted to take the KLIA Ekspres from the airport to Sentral Station. From there, we walked a bit and hopped on a monorail that took us to Bukit Bintang. Our hotel was approximately a 10 to 15-minute walk away.
Dorsett Regency
Kuala Lumpur was a really exciting adventure for us, and should you think about visiting anytime soon, here's a list of things to do in Kuala Lumpur. These were the highlights of our trip, and what made it really memorable.
13. Eat Nasi Lemak (or Nasi Goreng if you like the spicy, curry stuff)
On our first day, we booked a private tour with 
Kuala Lumpur Travel Tour
. Here, we met Mr. David Lee, who first thought the Cupcake and I were Australians! He was such a nice man, who gave us a very educational tour.
We learned that Kuala means the meeting of two rivers, and Lumpur means muddy or dirty. Another fun fact is that the deepest part of South China Sea (which happens to be the deepest ocean in the world) is found in between Malaysia and the Philippines, at 35,000 feet below sea level. To you give an idea of how deep this is, if you take Mount Everest and submerge it, you still wouldn't be able to see its tip.
While waiting for Mr. David Lee to arrive, we walked around the vicinity of our hotel and came across a simple eatery that served local dishes like Nasi Lemak and Nasi Goreng. Nasi Lemak is the national dish of Malaysia, where the rice is cooked in coconut milk. It was so rich and fulfilling, and was perfect for a breakfast meal—especially since we were going to be out the whole day. Nasi Goreng, on the other hand, is like their version of fried rice except that it was spicy and had a curry after-taste.
12. Try the Ice Kaccang or ABC in NyoNyang
I can't remember a meal I had in Kuala Lumpur where I didn't eat Ice Kaccang (also known as ABC) for dessert. I got so addicted to it! It's like their own version of halu-halo, but using shaved ice.
11. Food trip in Lot 10 Hutong
In the basement of Lot 10 in Bukit Bintang, we discovered this food court with about 20 stalls, all of which served legit local food. It's an awesome place to food trip, especially because it offered a variety of Malaysia's well-known dishes.
10. Use the squat toilets
During our tour of the Batu Caves, I badly needed to pee so I went to look for a restroom. When I did, I was a little stunned to find that their toilets weren't the ones I was accustomed to at home. But it was such an experience! I had to figure out a way to pee even though I was wearing pants. It took a good amount of strength and balance.
9. Go shopping in BB Plaza
BB Plaza in Malaysia is like Greenhills Tiangge in the Philippines. This was where I literally shopped until I dropped. I also enjoyed shopping in nearby malls like Fahrenheit 88, Lot 10 Shopping Mall, and Pavilion KL.
Their sales were crazy! I was able to buy three pairs of shoes from Cotton On in Pavilion for only 60 RM (which is approximately Php 700). The Giordano in Suria also had an hourly sale, where everything was Buy 1, Free 1!
8. Take the elevated AND air-conditioned pedestrian walkway that will lead you from Bukit Bintang to KLCC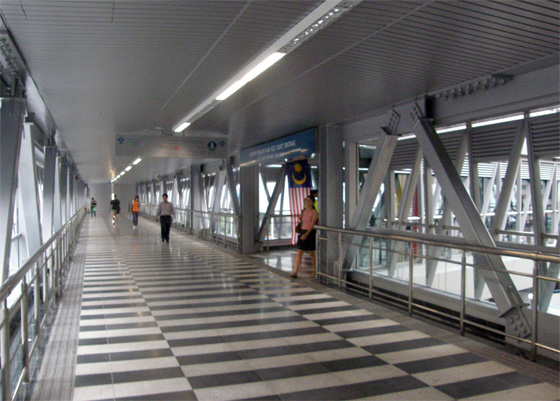 This walkway is the most convenient thing ever. Because of it, we easily had access to KLCC especially since the walkway is connected to Pavilion.
KLCC is where you can find Suria (another mall), Aquaria, and of course, the Petronas Towers.
7. Visit the Kuala Lumpur City Gallery in Merdeka Square
One of our coolest stopovers was the Merdeka Square, where you can find the tallest flagpole in Kuala Lumpur. You'll also see a good view of the original Petronas Tower, and can visit the Kuala Lumpur City Gallery, where they had this awesome scale model of the entire city. (There's usually a show of the scale model, but unfortunately when we visited, it was under maintenance.)
The original Petronas Tower
Scale Model of Kuala Lumpur in the Kuala Lumpur City Gallery
6. Indulge in chocolate from Beryl's Chocolate Kingdom
Though our brief visit to Beryl's Chocolate Kingdom was just to admire the place (the house was filled with mountains of chocolates), we had to buy some for ourselves.
5. Take a selfie with the palace guards
Malaysia has a parliament government, which means they have a king and a prime minister.
When we dropped by the king's palace, it just so happened the guards on duty were about to switch shifts with the next ones. We got to watch them do their march.
Aside from the king's palace, we were also able to visit the War Memorial—which boasted a picture perfect scenery of the city.
4. Play with the aquatic animals in Aquaria
Any kid at heart will surely enjoy visiting Aquaria in KLCC, where they had a touch pool. The touch pools gave visitors a chance to gently play with a few sea creatures. We also got to watch some of the fishes, sharks, and turtles being fed by a diver.
3. Hammer a pewter can in Royal Selangor
Royal Selangor showed us how pewter materials are made, including how they are designed. And it is difficult! It takes years of practice to master "hammering a pewter" to get its unique design.
2. Climb all 272 steps going up the Batu Caves (and watch out for monkeys!)
Batu is Malay for limestone. These series of caves is a Hindu shrine with a giant statue of Lord Murugan, and has become a famous tourist attraction. The main cave, usually referred to as the Cathedral or Temple Cave, houses several ornate Hindu shrines. The place is also filled with wild monkeys, so tourists are warned to take care of their belongings, especially plastic bags. Monkeys tend to think there's food inside, and are tempted to steal or grab them from you.
1. Go up the Petronas Towers
Our trip wouldn't have been complete without going up the Petronas Twin Towers, which stand at 453 meters above sea level. The towers were once named as the tallest buildings in the world from 1998 to 2004, with 88 floors. This is perhaps the most well-known landmark of Kuala Lumpur, along with the nearby Kuala Lumpur Tower.
The sky bridge, located on the 41st floor, can actually move like a swing, and is said to balance the two towers and prevent earthquake destruction from happening.
The public is allowed to go up until the 86th floor, where they had these cool TV's where if you flashed your ticket, it would show an alternate reality of the Twin Towers.
Kuala Lumpur is a very beautiful city, and I'm so amazed at how clean and green everything is—especially in the rural and residential areas. They do get traffic jams, and the weather is similar to our country, but because the air is crisp, you don't get the icky, sticky feeling after a long day of walking. If I had the chance, I wouldn't mind visiting again.